Unfunny Nerd Tangent 87: Terminator: Dark Fate

Unfunny Nerd Tangent returns (from the future) with a new episode – this time, a 2-man podcast, dedicated to Terminator: Dark Fate.
Greig and Jared sat down to discuss the latest entry into the wayward franchise, the involvement of James Cameron, the future of CGI acting, as well as the return of Linda Hamilton to the role of Sarah Connor.
So check it out. Because at the very least… it's better than Genisys.
Hosted by: 'Captain Boomerang' Greig Tansley (@GreigT13).
And Featuring: 'SuperJew' Jared Robinovitz (@SuperJew75).
Music by: Junkie XL & Brad Fiedel.

The NEW Mother Mary of the podcast has arrived: Mon Milfma! Grab an Unfunny Nerd Tangent shirt today and you'll avoid Judgment Day!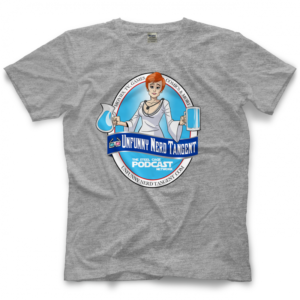 Support us on Patreon! — SUBSCRIBE in iTunes! — SUBSCRIBE via Google Play! — Favorite us in Stitcher! — Listen via TuneIn Radio! — Follow us on Soundcloud! — SUBSCRIBE to our YouTube Channel!