Unfunny Nerd Tangent 77: Game of Thrones
"The night is dark and full of terrors," and so is Unfunny Nerd Tangent 77: Game of Thrones.
The biggest television show ever has wrapped up, and opinions are divided. Many fans walked away happy, while many more (it seems) remain quite the opposite. So what else could we do but gather an eclectic collection of folk from all over the realm to reminisce, nitpick and on occasion, rewrite this epic fantasy series.
Yes, there are dragons, zombies and people who come back to life, but none of that can hold a Dothraki candle to six unfunny nerds and their unbridled fandom. So check it out.
Because Winter is Coming.
Hosted by: 'Only in the Books' Tim Agne (@timagne).
Featuring: 'The Hound' Greig Tansley (@GreigT13), 'Giantsbane' Jared Robinovitz (@SuperJew75), 'Hand of the King' Yoshi (@yousephtanha) & 'A Girl Has No Name' Flo (@glitbiter).
Special Guest: 'Protector of the Realm' Mega Ran (@MegaRan).
Music by: Ramin Djawadi & Jack Black.
There's no need to date your sister anymore. Instead, bend the knee for Mon Milfma! With an Unfunny Nerd Tangent shirt , you can rule the Seven Kingdoms, slay the dragon and maybe even live through the entire series! A Girl Has No Name, but Mon Milfma is the ultimate Red Woman!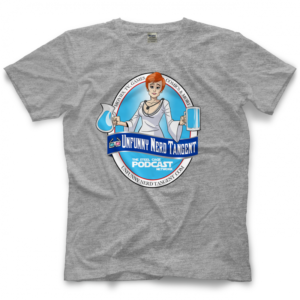 Support us on Patreon! — SUBSCRIBE in iTunes! — SUBSCRIBE via Google Play! — Favorite us in Stitcher! — Listen via TuneIn Radio! — Follow us on Soundcloud! — SUBSCRIBE to our YouTube Channel!