The Steel Cage Standings – WWE & NXT – January 2015
Hey guys, it's Psyniac back again with The Steel Cage Standings. December 2014 sucked for WWE so, as you may remember, I focused more on NXT. Sadly, 2015 and the road to Wrestlemania hasn't exactly kicked the main show into the correct gear but I've managed to pull together something for you all to read in this very dark, controversial and argumentative time to be a wrestling fan.
THE GOOD:
10. Triple H & Stephanie McMahon
As tempting as it would be to give this to JBL for the call of "that's not Sting! That's a picture of Sting!", our first spot goes to The Authority almost entirely for Triple H's response to Sting's second WWE appearance as he screamed and hollered "you're not supposed to be here". Like it or not, Triple H VS Sting is happening and it's the only storyline in the WWE right now with any kind of long-term planning.
09. Tyson Kidd & Cesaro
It's good to see these two stars back on TV and demonstrating what makes them the workhorses they are. Every match that I've witnessed them have has been a pleasure to watch and they've brought something new to the table every time. With a warm welcome at the Royal Rumble kickoff, shock victories against The New Day AND The Usos on Smackdown under their belt, Team Uppercats are gaining momentum. Hopefully they will be a heel team that actually sticks around and wins the big one, not like Cesaro's last venture in The Real Americans or RybAxel before them.
08. Dean Ambrose
After finishing his extended feud with Bray Wyatt, Dean Ambrose is now free to put into any storyline the WWE see fit. I didn't hate their pairing but I am excited to see where he goes next. Being the penultimate face eliminated from the Rumble almost counts for something and he has had some pretty amusing segments in the last few weeks where he once again got to show off his pristine comedic mic skills with his psychiatric evaluation and declaring on the snowed-in edition of Raw that he can hitchhike in Philadelphia because they "love him there." Of course they do. We love you here too, Dean.
07. Rusev & Lana
Time may be running out on Rusev's unbeaten streak now that he is up against Cena in three weeks time but everything has to come to an end eventually. Whether this is the right opponent or not, at least he and Lana will get the main event spotlight for some time which is nice for them. It's clear that the company is treating the Bulgarian Brute as their #2 heel since he was last to be eliminated from the Royal Rumble (even if it was in boring fashion).
06. Daniel Bryan
Bryan has barely had a chance to do anything yet since his return but the Monday Night Raw he was announced to appear at was all about him. Would he retire or enter the Rumble? It became obvious throughout the night that it was the latter but his promo announcing such was a demonstration that his mic skills have improved and Smackdown's Casket Match showed that his ringwork hasn't missed a beat either. In the moment he announced his return, Bryan instantly regained his spot as the most-over guy on the roster.
05. Paul Heyman
There's a lot of anger, depression and hate flying around the wrestling community right now but no one could ever hate Paul Heyman (out of kayfabe, that is). The last moments of Raw have already converted a few easily-lead people and this, I'm convinced, is at least in part due to Heyman taking over the interview with Reigns and Lesnar. I'm sure Paul wrote the entire segment. Not only that but as always he's been adding that extra wrinkle to what makes Brock such a great, well-booked character. I'm sure he will have a huge part to play in where we go from here.
04. Damien Mizdow & The Miz
There's very little I can say that hasn't been said at this point about these two. The Miz has been doing the best heel work (and possibly best work, period) of his career. This is especially true when you realise he wrestles most of, if not all of, their tag matches alone because he refuses to tag in the much more popular Mizdow. The divide began last month but has gone largely ignored. Although he was eliminated far too early, Mizdow disobeying The Miz and entering the Rumble should finally be the final straw and breaks the two up.
03. Bray Wyatt
A new entrant to The Steel Cage Standings, Bray Wyatt had a spectacular showing in his first Royal Rumble. It's all pretty obvious that this, and his repeated wins over Ambrose, are building him to a big Wrestlemania match. Whether or not that's The Undertaker (which seems pretty clear) and whether or not that's a good idea has very little bearing on what he did this month. Bray Wyatt was about the only person to look remotely good in the Rumble by having the ring to himself multiple times and taking out both his former followers and Daniel Bryan. Sure, the eliminations weren't that interesting but history will only show the numbers.
02. Brock Lesnar
Brock Lesnar is on top of the professional wrestling world. He has the main championship of the biggest promotion on the planet and is being booked like a superhero. In fact; he's been getting Cena booking but as a heel, now that I think about it. He completely massacred both his opponents at Royal Rumble and got up from being placed on a stretcher to come back, win the match and walk out the arena on two feet. At this point, complete with his beating of The Streak nearly a year ago; nobody has ever looked stronger. Smart booking. I would not be opposed to letting him hang onto that title for another year despite the fact he's absent a lot of the time. It hardly matters when every appearance he makes is incredibly entertaining. In fact, it just adds to the aura. Plus, I'm a sucker for him speaking on the microphone which he's been doing more of recently, showing his over-confidence by not relying on Heyman. See? Smart booking.

01. Seth Rollins
I'm pretty sure this is the third time in three months I've had to write this but Seth Rollins is the complete package. I've heard a couple of complaints that he was put into the Triple Threat match just so he could do the job to Lesnar and I have to ask: why is that a bad thing? He came out of it looking really no worse for wear, particularly after his ridiculous jump from the turnbuckle through a table and later, the Phoenix Splash. In fact, it was yet again him showing that he can be a part of the main event and (if we're lucky) he'll be continuing to lead the storylines of the company later this year when he cashes in his Money in the Bank contract on Reigns at Wrestlemania and walks out the champion.
Maybe that's fantasy booking but it's the fantasy booking of the vast majority of WWE fans right now. Rollins arguably deserves to hold the strap more than anyone else on the roster right now and he damn sure deserves to hold it more than Reigns. His slimy opportunist heel character has given us so many great moments week-to-week including his solo cheering at being given the Royal Rumble main event, the inclusion of J&J Security and incredible spots and curb-stomps. He deserves that cash-in. It is genuinely best for business. Reigns, with all due respect, is not ready to pull off being a convincing champion for the six months they will want to give it to him and will drag the show even further down into the dirt.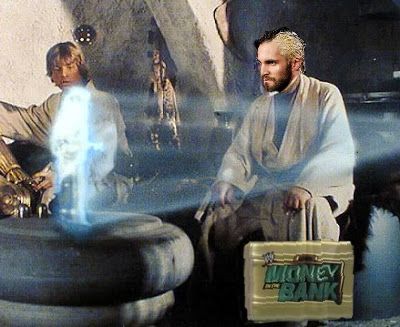 Help us, Seth Kenobi. You're our only hope.
THE BAD:
03. The New Day
The New Day still haven't found a way to connect with the crowd and it seems as though the powers that be have lost interest in it as it is after a loss to Tyson Kidd and Cesaro on the Royal Rumble kickoff; surely a result that nobody predicted. Not only this but Kofi Kingston's signature Rumble spot was largely ignored due to the crowd booing Bryan's elimination which isn't going to help. Honestly where do you go from here aside from feeding them to The Ascension?
02. Roman Reigns
Last month I pointed out that I didn't hate Reigns and I wanted to see him succeed, just perhaps somewhere down the road when he had more experience. This hasn't changed. I also said I was glad it seemed like they were cooling their jets on him being "the guy". Apparently not. After booking the Royal Rumble around him and with a title-shot at Mania just two months away (after a guaranteed hugely underwhelming Big Show match, no doubt), he does not have time to get fully over as a face and become legitimate enough to beat Lesnar. Now, a double turn? That could be interesting. But right now, Reigns just isn't. And it's not entirely his fault…
01. The Creative Team
The fault lies squarely on the shoulders of Vince McMahon. This is clearly his brainchild, his baby and his final decision. All those weeks of rumours of The Creative Team considering a different outcome and at the end of it they decided to take Ziggler, Ryback and Rowan off TV to take away any heat they had going and hope they crowd concentrated on the guy they were preparing to shove down our throats. This is the second year running and I would love to have been a fly on the wall in the back of the arena as those boos absolutely murdered Reigns' crowning moment. The worst part is we can almost be assured that they won't try to fix their mistake like last year. The only way for this to be fixed is for Vince to finally admit he's completely out of touch, out of control and doesn't know what's best for business.
THE NXT:
03. Blue Pants
Blue Pants is a fantastic example of WWE responding to what the fans love. In December Enzo and Big Cass set up a fight between their diva-in-training Carmella and indie wrestler Leva Bates, who they paid no mind to and nicknamed Blue Pants. This month we were witness to a rematch; this time her name-plate bared her name, she had music (which was a recording of Cass singing the Jeopardy theme the first time around) and she got a surprise victory. Bates now has Blue Pants mercy on her store and a #BluePants sign could easily be seen behind the commentators at Royal Rumble. Long live Blue Pants.
02. Charlotte
I said last month that it was hard to say who was better between her and Banks but recently Charlotte has really pulled ahead and stood out for me. She just comes off as a champion in everything she does. Not only that but the cool thing about NXT is the blur and shades of grey between face and heel; recently utilised by Adrian Neville, arguably Bull Dempsey and now Charlotte. She was always slightly holier-than-thou with her "genetically superior" catchphrase but against Banks she was the clear crowd favourite of the two. Now, on the beginning of the road to a fatal four-way at NXT's next Takeover she can seamlessly slip into the other gear with Bayley being the bigger babyface of the group.

01. Sami Zayn
Sami hasn't done a whole lot since his NXT Championship win, taking some much needed time off, but as soon as he returned he wasted no time ramping up the intensity of his character; destroying Tye Dillinger and demanding a match with Kevin Owens. As of this week that match is a title match which sets my teeth on edge. I'm worried for the guy which shows just easy it is to connect with the character but at the same time I'm incredibly excited to see where this goes. I can say for certain it's going to be one hell of a match and will do nothing but elevate both guys higher. Zayn is at the top of the NXT mountain right now but he never fails to make me wonder how he gets better and better.


You can find Psyniac on Twitter at Raw is Psyniac where he tweets about Raw 18 hours after it's aired, how much he loves Dolph Ziggler and, occasionally, candy.